Also known as Auto Rickshaws, Trishaws or Three-Wheelers (depending on where you are), you may think that the notoriously cheeky, nippy little Tuk Tuks are only available to you as a passenger, taxi style, while trying to get around in Sri Lanka, India or other Asian country. However, I discovered that you are actually able to rent one of those little buggers and use it as your main source of transportation to get around Sri Lanka.
I was in Uppuveli (Trincomalee) on Sri Lanka's East coast at a fantastic beach side bar called Fernando's waiting to order a beer when I got chatting to a fellow Australian. I couldn't believe it when the bloke, Lewis, told me that he'd been travelling around Sri Lanka purely using their rented Tuk Tuk. It wasn't long before he offered me a lift down the coast with him and his girlfriend, since we were headed in the same direction.
Where and How?
I'm unfortunately going to be light on specifics here (there are some helpful links at the bottom). But Lewis managed to find his Rickshaw rental agency in the Negombo area (where the airport is). The locals were very blasé about the whole ordeal –  basically all you have to do is convince them that you've driven one before and that you know what you're doing, hand over some cash and you're on your way. They don't even care about licensing and what not. If you haven't driven one before just ask someone you catch a lift with if they'd be able to teach you before you head to the rental shop.
Note: while they may not check your license at the rental agency, the police might. You are meant to have one. This was something that was gotten away with somewhat.
Driving the Trishaw
We managed to fit 3 people and all our luggage into the vehicle. It was borderline comfortable. Aside from this, my journey with the rickshaw down the East coast was extremely pleasant. The quality of the roads varied, but the tuk tuk managed. The traffic over there was on the light side of things (I imagine getting around the busy Negombo/Colombo area would be a different kettle of fish), but you still need to always be wary of psychotic busses, wandering cows or goats and other busy rickshaws.
When it was my turn to have a stint I got the hang of it pretty quickly. Right handlebar accelerates, left controls the gears with a lever, like on a bike, that works as the clutch. Brake pedal on the floor. They don't move at high speeds, but Sri Lanka is only a small island so you usually don't have to travel a hell of a long way to your next destination. Our trips were 3-4 hours and sore hands from gripping the rattling handle bars were managed by rotating drivers.
Cruising along in a tuk tuk is an awesome experience. To the locals it's such a novelty and their endless waving, pointing and general bewilderment at a tourist in a rickshaw never gets old. We went through an incredible variety of towns that we wouldn't have otherwise. The wind kept us cool, flying in through the open sides.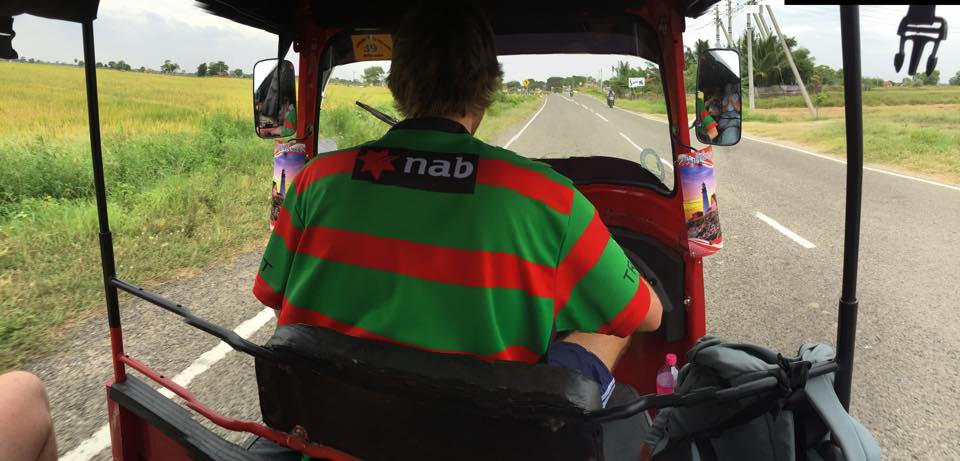 The Rules
Officially Tuk Tuks have a national speed limit of 40km/h. Needless to say, this wasn't adhered to, considering they can get towards 60 pretty easily. This doesn't mean it isn't enforced.
Twice while Lewis was driving he attracted the attention of the local police. I'd say that speed had nothing to with this and instead it was more the fact that a tourist was driving a Rickshaw – a bit of a blue moon occurrence I'm sure for many locals. Both times Lewis made a snap decision to bail; continuing along, pretending to be oblivious and leaving the whistle blowing of the cops in our dust. I don't think his "papers" would have checked out when requested. I wouldn't necessarily recommend any of these actions, but we got away with it.
Should You Do It?
Yes, but perhaps take a few more precautions than in my experience. Also I'd suggest doing it for a portion of your travels in Sri Lanka – there are some fantastic train rides to be had and you'll probably want a rest from the driving at some point.
Other Information
I discovered this fantastic blog post written by somebody who did exactly what I'm describing. It contains a lot more details and is a fantastic read: http://www.20yearshence.com/tuk-tuk-sri-lanka/
There are also organised Tuk Tuk trips and races such as the following: http://www.largeminority.travel/lanka-challenge/